Find your hospital's C-section rate
More than med­ic­al risk factors or pa­tient pref­er­ence, the way in which a baby is de­livered de­pends largely on the hos­pit­al where the moth­er gives birth. In re­cent years, hos­pit­als have been try­ing to bring down their C-sec­tion rates, which ex­perts say are un­ne­ces­sar­ily high.
Hos­pit­als cal­cu­late how of­ten moth­ers con­sidered low-risk for the pro­ced­ure have C-sec­tions. The NTSV rate in­cludes only first-time moth­ers giv­ing birth around their due date, hav­ing a single baby that's po­si­tioned head down, the ideal po­s­i­tion for de­liv­ery through the birth canal. In 2014, there were more than 160,000 NTSV de­liv­er­ies in Cali­for­nia, about 26% of which were C-sec­tions.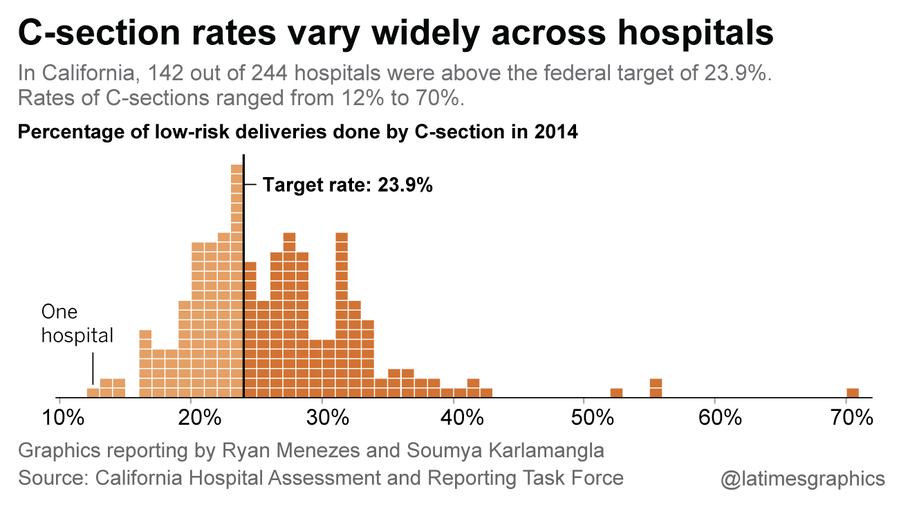 | Hospital | City | County | C-sections | Deliveries | Percent |
| --- | --- | --- | --- | --- | --- |
| Adventist Medical Center - Reedley | Reedley | Fresno | 84 | 352 | 23.9% |
| AHMC Anaheim Regional Medical Center | Anaheim | Orange | 119 | 537 | 22.3% |
| Alameda County Medical Center - Highland Hospital | Oakland | Alameda | 68 | 338 | 20.4% |
| Alta Bates Summit Medical Center - Alta Bates Campus | Berkeley | Alameda | 547 | 2,330 | 23.5% |
| Antelope Valley Hospital | Lancaster | Los Angeles | 496 | 1,475 | 33.7% |
| Arrowhead Regional Medical Center | Colton | San Bernardino | 151 | 734 | 20.7% |
| Bakersfield Memorial Hospital | Bakersfield | Kern | 174 | 1,170 | 15.0% |
| Banner Lassen Medical Center | Susanville | Lassen | 24 | 75 | 33.3% |
| Barstow Community Hospital | Barstow | San Bernardino | 20 | 100 | 20.0% |
| Barton Memorial Hospital | South Lake Tahoe | El Dorado | 37 | 134 | 28.4% |
| Beverly Hospital | Montebello | Los Angeles | 81 | 231 | 35.1% |
| California Hospital Medical Center | Los Angeles | Los Angeles | 280 | 1,194 | 23.5% |
| California Pacific Medical Center - California Campus | San Francisco | San Francisco | 468 | 2,153 | 21.7% |
| California Pacific Medical Center - St. Luke's Campus | San Francisco | San Francisco | 96 | 448 | 21.7% |
| Cedars-Sinai Medical Center | Los Angeles | Los Angeles | 828 | 2,873 | 28.8% |
| Centinela Hospital Medical Center | Inglewood | Los Angeles | 42 | 158 | 27.2% |
| Central Valley General Hospital | Hanford | Kings | 189 | 604 | 31.5% |
| Citrus Valley Medical Center - Queen of the Valley Campus | West Covina | Los Angeles | 290 | 1,242 | 23.3% |
| Clovis Community Medical Center | Clovis | Fresno | 469 | 1,605 | 29.2% |
| Coastal Communities Hospital | Santa Ana | Orange | 63 | 200 | 31.5% |
| Community Hospital of San Bernardino | San Bernardino | San Bernardino | 174 | 537 | 32.4% |
| Community Hospital of the Monterey Peninsula | Monterey | Monterey | 119 | 433 | 27.7% |
| Community Memorial Hospital | Ventura | Ventura | 226 | 955 | 23.7% |
| Community Regional Medical Center | Fresno | Fresno | 311 | 1,293 | 24.1% |
| Contra Costa Regional Medical Center | Martinez | Contra Costa | 202 | 712 | 28.4% |
| Corona Regional Medical Center | Corona | Riverside | 61 | 326 | 18.7% |
| Dameron Hospital | Stockton | San Joaquin | 84 | 261 | 32.6% |
| Delano Regional Medical Center | Delano | Kern | 67 | 216 | 31.5% |
| Desert Regional Medical Center | Palm Springs | Riverside | 240 | 1,006 | 24.0% |
| Desert Valley Hospital | Victorville | San Bernardino | 69 | 308 | 22.4% |
| Doctors Hospital of Manteca | Manteca | San Joaquin | 51 | 214 | 23.8% |
| Doctors Medical Center of Modesto | Modesto | Stanislaus | 259 | 991 | 26.2% |
| Dominican Hospital | Santa Cruz | Santa Cruz | 61 | 294 | 21.1% |
| Downey Regional Medical Center | Downey | Los Angeles | 74 | 328 | 22.6% |
| East Los Angeles Doctors Hospital | Los Angeles | Los Angeles | 61 | 116 | 52.6% |
| Eden Medical Center | Castro Valley | Alameda | 125 | 517 | 24.2% |
| El Camino Hospital | Mountain View | Santa Clara | 495 | 1,851 | 26.7% |
| El Camino Hospital Los Gatos | Los Gatos | Santa Clara | 58 | 362 | 16.3% |
| El Centro Regional Medical Center | El Centro | Imperial | 118 | 304 | 39.1% |
| Emanuel Medical Center | Turlock | Stanislaus | 51 | 391 | 13.0% |
| Enloe Medical Center | Chico | Butte | 134 | 554 | 24.2% |
| Fairchild Medical Center | Yreka | Siskiyou | 10 | 53 | 20.8% |
| Feather River Hospital | Paradise | Butte | 72 | 314 | 22.9% |
| Foothill Presbyterian Hospital | Glendora | Los Angeles | 100 | 257 | 38.9% |
| Fountain Valley Regional Hospital & Medical Center | Fountain Valley | Orange | 371 | 1,309 | 28.4% |
| Fremont Medical Center | Yuba City | Sutter | 143 | 609 | 23.5% |
| French Hospital Medical Center | San Luis Obispo | San Luis Obispo | 59 | 231 | 26.0% |
| Garden Grove Hospital and Medical Center | Garden Grove | Orange | 138 | 498 | 27.9% |
| Garfield Medical Center | Monterey Park | Los Angeles | 449 | 1,601 | 28.1% |
| George L. Mee Memorial Hospital | King City | Monterey | 21 | 98 | 21.4% |
| Glendale Adventist Medical Center | Glendale | Los Angeles | 276 | 834 | 33.1% |
| Glendale Memorial Hospital and Health Center | Glendale | Los Angeles | 223 | 658 | 34.0% |
| Good Samaritan Hospital - Los Angeles | Los Angeles | Los Angeles | 298 | 1,142 | 26.2% |
| Good Samaritan Hospital - San Jose | San Jose | Santa Clara | 401 | 1,288 | 31.1% |
| Greater El Monte Community Hospital | So. El Monte | Los Angeles | 42 | 120 | 35.8% |
| Hazel Hawkins Memorial Hospital | Hollister | San Benito | 41 | 126 | 32.5% |
| Hemet Valley Medical Center | Hemet | Riverside | 100 | 361 | 28.0% |
| Henry Mayo Newhall Memorial Hospital | Valencia | Los Angeles | 93 | 459 | 20.5% |
| Hi-Desert Medical Center | Joshua Tree | San Bernardino | 53 | 144 | 36.8% |
| Hoag Memorial Hospital Presbyterian | Newport Beach | Orange | 654 | 2,529 | 25.9% |
| Hollywood Presbyterian Medical Center | Los Angeles | Los Angeles | 377 | 1,228 | 30.7% |
| Huntington Memorial Hospital | Pasadena | Los Angeles | 380 | 1,346 | 28.2% |
| John F. Kennedy Memorial Hospital | Indio | Riverside | 140 | 569 | 24.8% |
| John Muir Medical Center - Walnut Creek Campus | Walnut Creek | Contra Costa | 168 | 971 | 17.4% |
| Kaiser Ontario Medical Center Campus | Ontario | San Bernardino | 202 | 752 | 27.0% |
| Kaiser Permanente Antioch Medical Center | Antioch | Contra Costa | 126 | 556 | 22.7% |
| Kaiser Permanente Baldwin Park Medical Center | Baldwin Park | Los Angeles | 243 | 1,043 | 23.3% |
| Kaiser Permanente Downey Medical Center | Downey | Los Angeles | 299 | 1,272 | 23.6% |
| Kaiser Permanente Fontana Medical Center | Fontana | San Bernardino | 321 | 1,210 | 26.5% |
| Kaiser Permanente Fresno Medical Center | Fresno | Fresno | 99 | 468 | 21.2% |
| Kaiser Permanente Los Angeles Medical Center | Los Angeles | Los Angeles | 277 | 1,022 | 27.1% |
| Kaiser Permanente Modesto Medical Center | Modesto | Stanislaus | 179 | 878 | 20.5% |
| Kaiser Permanente Moreno Valley Medical Center | Moreno Valley | Riverside | 98 | 378 | 26.2% |
| Kaiser Permanente Oakland Medical Center | Oakland | Alameda | 207 | 949 | 21.9% |
| Kaiser Permanente Orange County Anaheim Medical Center | Anaheim | Orange | 305 | 1,242 | 24.6% |
| Kaiser Permanente Orange County Irvine Medical Center | Irvine | Orange | 253 | 985 | 25.7% |
| Kaiser Permanente Panorama City Medical Center | Panorama City | Los Angeles | 158 | 772 | 20.6% |
| Kaiser Permanente Redwood City Medical Center | Redwood City | San Mateo | 115 | 718 | 16.0% |
| Kaiser Permanente Riverside Medical Center | Riverside | Riverside | 236 | 1,056 | 22.4% |
| Kaiser Permanente Roseville Medical Center | Roseville | Placer | 303 | 1,794 | 16.9% |
| Kaiser Permanente San Diego Medical Center | San Diego | San Diego | 485 | 1,618 | 30.0% |
| Kaiser Permanente San Francisco Medical Center | San Francisco | San Francisco | 276 | 1,235 | 22.3% |
| Kaiser Permanente San Jose Medical Center | San Jose | Santa Clara | 157 | 776 | 20.2% |
| Kaiser Permanente San Leandro Medical Center | San Leandro | Alameda | 150 | 740 | 20.4% |
| Kaiser Permanente Santa Clara Medical Center | Santa Clara | Santa Clara | 478 | 1,725 | 27.8% |
| Kaiser Permanente Santa Rosa Medical Center | Santa Rosa | Sonoma | 176 | 789 | 22.4% |
| Kaiser Permanente South Bay Medical Center (Harbor City) | Harbor City | Los Angeles | 226 | 893 | 25.3% |
| Kaiser Permanente South Sacramento Medical Center | Sacramento | Sacramento | 180 | 861 | 20.9% |
| Kaiser Permanente Vacaville Medical Center | Vacaville | Solano | 81 | 418 | 19.4% |
| Kaiser Permanente Vallejo Medical Center | Vallejo | Solano | 109 | 504 | 21.8% |
| Kaiser Permanente Walnut Creek Medical Center | Walnut Creek | Contra Costa | 289 | 1,275 | 22.7% |
| Kaiser Permanente West Los Angeles Medical Center | Los Angeles | Los Angeles | 169 | 719 | 23.6% |
| Kaiser Permanente Woodland Hills Medical Center | Woodland Hills | Los Angeles | 122 | 633 | 19.3% |
| Kaweah Delta Health Care District | Visalia | Tulare | 343 | 1,268 | 27.1% |
| Kern Medical Center | Bakersfield | Kern | 139 | 574 | 24.2% |
| La Palma Intercommunity Hospital | La Palma | Orange | 23 | 137 | 17.5% |
| Little Company of Mary - San Pedro Hospital | San Pedro | Los Angeles | 44 | 192 | 22.9% |
| Little Company of Mary Hospital - Torrance | Torrance | Los Angeles | 310 | 1,068 | 29.1% |
| Lodi Memorial Hospital | Lodi | San Joaquin | 62 | 291 | 21.6% |
| Loma Linda University Medical Center | Loma Linda | San Bernardino | 197 | 816 | 24.1% |
| Loma Linda University Medical Center - Murrieta | Murrieta | Riverside | 75 | 421 | 18.1% |
| Lompoc Valley Medical Center | Lompoc | Santa Barbara | 22 | 115 | 19.1% |
| Long Beach Memorial Medical Center | Long Beach | Los Angeles | 557 | 2,024 | 27.6% |
| Los Alamitos Medical Center | Los Alamitos | Orange | 104 | 463 | 22.7% |
| Los Angeles Community Hospital | Los Angeles | Los Angeles | 14 | 20 | 70.0% |
| Los Angeles County - Harbor - UCLA Medical Center | Torrance | Los Angeles | 83 | 256 | 32.4% |
| Los Angeles County - Olive View - UCLA Medical Center | Sylmar | Los Angeles | 40 | 155 | 26.5% |
| Los Angeles County + University of Southern California Medical Center | Los Angeles | Los Angeles | 78 | 285 | 27.4% |
| Los Robles Hospital & Medical Center | Thousand Oaks | Ventura | 207 | 652 | 31.7% |
| Mad River Community Hospital | Arcata | Humboldt | 38 | 230 | 17.0% |
| Madera Community Hospital | Madera | Madera | 89 | 320 | 27.8% |
| Mammoth Hospital | Mammoth Lakes | Mono | 5 | 43 | 14.0% |
| Marian Medical Center | Santa Maria | Santa Barbara | 219 | 869 | 25.2% |
| Marin General Hospital | Greenbrae | Marin | 100 | 518 | 19.5% |
| Marshall Medical Center | Placerville | El Dorado | 51 | 185 | 28.1% |
| Mayers Memorial Hospital District | Fall River Mills | Shasta | 4 | 17 | 23.5% |
| Memorial Hospital Los Banos | Los Banos | Merced | 77 | 191 | 40.8% |
| Memorial Hospital of Gardena | Gardena | Los Angeles | 123 | 224 | 55.4% |
| Memorial Medical Center | Modesto | Stanislaus | 207 | 667 | 31.2% |
| Mendocino Coast District Hospital | Fort Bragg | Mendocino | 9 | 44 | 22.7% |
| Mercy General Hospital | Sacramento | Sacramento | 173 | 615 | 28.1% |
| Mercy Healthcare Bakersfield - Mercy Southwest Hospital | Bakersfield | Kern | 247 | 979 | 25.3% |
| Mercy Hospital of Folsom | Folsom | Sacramento | 81 | 350 | 23.1% |
| Mercy Medical Center Merced | Merced | Merced | 188 | 569 | 33.0% |
| Mercy Medical Center Mount Shasta | Mount Shasta | Siskiyou | 10 | 46 | 21.7% |
| Mercy Medical Center Redding | Redding | Shasta | 149 | 604 | 24.8% |
| Mercy San Juan Medical Center | Carmichael | Sacramento | 148 | 566 | 26.3% |
| Methodist Hospital of Sacramento | Sacramento | Sacramento | 143 | 524 | 27.3% |
| Methodist Hospital of Southern California | Arcadia | Los Angeles | 194 | 856 | 22.7% |
| Mills-Peninsula Health Services | Burlingame | San Mateo | 240 | 861 | 27.9% |
| Mission Hospital - Mission Viejo | Mission Viejo | Orange | 256 | 894 | 28.7% |
| Montclair Hospital Medical Center | Montclair | San Bernardino | 87 | 308 | 28.6% |
| Monterey Park Hospital | Monterey Park | Los Angeles | 205 | 495 | 41.6% |
| Natividad Medical Center | Salinas | Monterey | 128 | 538 | 24.0% |
| NorthBay Medical Center | Fairfield | Solano | 108 | 436 | 24.8% |
| Northern Inyo Hospital | Bishop | Inyo | 15 | 65 | 24.6% |
| Northridge Hospital Medical Center | Northridge | Los Angeles | 126 | 383 | 32.9% |
| O'Connor Hospital | San Jose | Santa Clara | 241 | 1,009 | 23.9% |
| Orange Coast Memorial Medical Center | Fountain Valley | Orange | 182 | 563 | 32.3% |
| Oroville Hospital | Oroville | Butte | 34 | 110 | 31.8% |
| Pacific Alliance Medical Center | Los Angeles | Los Angeles | 186 | 683 | 27.4% |
| Pacifica Hospital of the Valley | Sun Valley | Los Angeles | 44 | 79 | 55.7% |
| Palo Verde Hospital | Blythe | Riverside | 11 | 43 | 25.6% |
| Palomar Medical Center | Escondido | San Diego | 294 | 998 | 29.6% |
| Paradise Valley Hospital | National City | San Diego | 125 | 444 | 28.4% |
| Parkview Community Hospital Medical Center | Riverside | Riverside | 224 | 714 | 31.4% |
| Petaluma Valley Hospital | Petaluma | Sonoma | 33 | 153 | 21.6% |
| Pioneers Memorial Hospital | Brawley | Imperial | 172 | 628 | 27.4% |
| Plumas District Hospital | Quincy | Plumas | 5 | 27 | 18.5% |
| Pomerado Hospital | Poway | San Diego | 117 | 467 | 25.1% |
| Pomona Valley Hospital Medical Center | Pomona | Los Angeles | 446 | 2,195 | 20.4% |
| Presbyterian Intercommunity Hospital | Whitter | Los Angeles | 360 | 1,427 | 25.3% |
| Providence Holy Cross Medical Center - Mission Hills | Mission Hills | Los Angeles | 256 | 1,123 | 22.9% |
| Providence Saint Joseph Medical Center - Burbank | Burbank | Los Angeles | 331 | 1,032 | 32.1% |
| Providence Tarzana Medical Center | Tarzana | Los Angeles | 348 | 998 | 34.9% |
| Queen of the Valley Medical Center | Napa | Napa | 59 | 250 | 23.6% |
| Redlands Community Hospital | Redlands | San Bernardino | 169 | 838 | 20.3% |
| Redwood Memorial Hospital | Fortuna | Humboldt | 16 | 88 | 19.3% |
| Regional Medical Center of San Jose | San Jose | Santa Clara | 48 | 147 | 33.3% |
| Ridgecrest Regional Hospital | Ridgecrest | Kern | 51 | 141 | 36.9% |
| Riverside Community Hospital | Riverside | Riverside | 384 | 1,096 | 35.1% |
| Riverside County Regional Medical Center | Moreno Valley | Riverside | 91 | 422 | 21.6% |
| Ronald Reagan UCLA Medical Center | Los Angeles | Los Angeles | 201 | 757 | 26.6% |
| Saddleback Memorial Medical Center - Laguna Hills Campus | Laguna Hills | Orange | 288 | 1,071 | 27.0% |
| Saint Agnes Medical Center | Fresno | Fresno | 257 | 847 | 30.3% |
| Saint John's Health Center | Santa Monica | Los Angeles | 296 | 1,037 | 28.6% |
| Salinas Valley Memorial Healthcare System | Salinas | Monterey | 114 | 501 | 23.0% |
| San Antonio Community Hospital | Upland | San Bernardino | 226 | 783 | 28.9% |
| San Dimas Community Hospital | San Dimas | Los Angeles | 71 | 197 | 36.5% |
| San Francisco General Hospital Medical Center | San Francisco | San Francisco | 67 | 387 | 17.3% |
| San Gabriel Valley Medical Center | San Gabriel | Los Angeles | 336 | 1,252 | 26.8% |
| San Gorgonio Memorial Hospital | Banning | Riverside | 35 | 107 | 32.7% |
| San Joaquin Community Hospital | Bakersfield | Kern | 176 | 1,045 | 16.9% |
| San Joaquin General Hospital | French Camp | San Joaquin | 86 | 409 | 21.0% |
| San Ramon Regional Medical Center | San Ramon | Contra Costa | 94 | 282 | 33.7% |
| Santa Barbara Cottage Hospital | Santa Barbara | Santa Barbara | 281 | 894 | 31.4% |
| Santa Clara Valley Medical Center | San Jose | Santa Clara | 207 | 959 | 21.7% |
| Santa Monica UCLA Medical Center and Orthopaedic Hospital | Santa Monica | Los Angeles | 171 | 670 | 25.5% |
| Santa Paula Hospital | Santa Paula | Ventura | 18 | 111 | 17.1% |
| Santa Rosa Memorial Hospital | Santa Rosa | Sonoma | 55 | 239 | 23.4% |
| Scripps Memorial Hospital Encinitas | Encinitas | San Diego | 233 | 775 | 30.2% |
| Scripps Memorial Hospital La Jolla | La Jolla | San Diego | 520 | 1,569 | 33.2% |
| Scripps Mercy Hospital Chula Vista | Chula Vista | San Diego | 163 | 670 | 24.5% |
| Scripps Mercy Hospital San Diego | San Diego | San Diego | 179 | 764 | 23.6% |
| Sequoia Hospital | Redwood City | San Mateo | 202 | 645 | 31.5% |
| Sharp Chula Vista Medical Center | Chula Vista | San Diego | 228 | 801 | 28.5% |
| Sharp Grossmont Hospital | La Mesa | San Diego | 346 | 1,292 | 26.8% |
| Sharp Memorial Hospital | San Diego | San Diego | 1,178 | 3,484 | 33.8% |
| Sierra Nevada Memorial Hospital | Grass Valley | Nevada | 24 | 152 | 16.4% |
| Sierra View District Hospital | Porterville | Tulare | 89 | 378 | 23.5% |
| Sierra Vista Regional Medical Center | San Luis Obispo | San Luis Obispo | 136 | 420 | 32.6% |
| Simi Valley Hospital | Simi Valley | Ventura | 52 | 259 | 20.5% |
| Sonoma Valley Hospital | Sonoma | Sonoma | 7 | 49 | 14.3% |
| Sonora Regional Medical Center | Sonora | Tuolumne | 83 | 198 | 42.4% |
| Southwest Healthcare System - Rancho Springs/Murrieta Campus | Murrieta | Riverside | 201 | 1,018 | 19.7% |
| St. Bernardine Medical Center | San Bernardino | San Bernardino | 134 | 559 | 24.0% |
| St. Elizabeth Community Hospital | Red Bluff | Tehama | 54 | 210 | 26.2% |
| St. Francis Medical Center | Lynwood | Los Angeles | 412 | 1,372 | 30.1% |
| St. Helena Hospital | St. Helena | Napa | 20 | 104 | 19.2% |
| St. Helena Hospital Clearlake | Clearlake | Lake | 13 | 66 | 19.7% |
| St. John's Regional Medical Center - Oxnard | Oxnard | Ventura | 194 | 654 | 29.7% |
| St. Joseph Hospital - Eureka | Eureka | Humboldt | 39 | 143 | 27.3% |
| St. Joseph Hospital - Orange | Orange | Orange | 558 | 1,759 | 31.7% |
| St. Joseph's Medical Center of Stockton | Stockton | San Joaquin | 167 | 709 | 23.7% |
| St. Jude Medical Center | Fullerton | Orange | 172 | 816 | 21.2% |
| St. Louise Regional Hospital | Gilroy | Santa Clara | 37 | 165 | 23.0% |
| St. Mary Medical Center - Apple Valley | Apple Valley | San Bernardino | 175 | 707 | 24.8% |
| St. Mary Medical Center - Long Beach | Long Beach | Los Angeles | 271 | 864 | 31.5% |
| St. Rose Hospital | Hayward | Alameda | 51 | 257 | 20.2% |
| Stanford Hospital and Clinics | Stanford | Santa Clara | 365 | 1,511 | 24.2% |
| Sutter Amador Hospital | Jackson | Amador | 41 | 102 | 41.2% |
| Sutter Coast Hospital | Crescent City | Del Norte | 25 | 86 | 29.1% |
| Sutter Davis Hospital | Davis | Yolo | 71 | 598 | 12.0% |
| Sutter Delta Medical Center | Antioch | Contra Costa | 70 | 322 | 21.7% |
| Sutter Lakeside Hospital | Lakeport | Lake | 35 | 95 | 37.9% |
| Sutter Maternity and Surgery Center of Santa Cruz | Santa Cruz | Santa Cruz | 73 | 457 | 16.2% |
| Sutter Medical Center of Santa Rosa | Santa Rosa | Sonoma | 121 | 568 | 21.5% |
| Sutter Medical Center Sacramento - Sutter Memorial | Sacramento | Sacramento | 416 | 1,535 | 27.1% |
| Sutter Roseville Medical Center | Roseville | Placer | 211 | 961 | 22.1% |
| Sutter Solano Medical Center | Vallejo | Solano | 38 | 201 | 18.9% |
| Sutter Tracy Community Hospital | Tracy | San Joaquin | 77 | 198 | 38.9% |
| Tahoe Forest Hospital | Truckee | Nevada | 32 | 161 | 19.9% |
| Torrance Memorial Medical Center | Torrance | Los Angeles | 360 | 1,213 | 29.7% |
| Tri-City Medical Center | Oceanside | San Diego | 243 | 780 | 31.2% |
| Tulare District Hospital | Tulare | Tulare | 75 | 266 | 28.2% |
| Twin Cities Community Hospital | Templeton | San Luis Obispo | 44 | 221 | 20.4% |
| UC Davis Medical Center | Sacramento | Sacramento | 117 | 421 | 27.8% |
| UC Irvine Medical Center | Orange | Orange | 102 | 446 | 22.9% |
| UC San Diego Health System Hillcrest | San Diego | San Diego | 201 | 868 | 23.2% |
| UCSF Medical Center - Mt. Zion | San Francisco | San Francisco | 198 | 1,069 | 18.5% |
| Ukiah Valley Medical Center | Ukiah | Mendocino | 49 | 250 | 19.6% |
| Valley Presbyterian Hospital | Van Nuys | Los Angeles | 251 | 936 | 26.9% |
| ValleyCare Health System | Pleasanton | Alameda | 151 | 565 | 26.9% |
| Ventura County Medical Center | Ventura | Ventura | 85 | 420 | 20.5% |
| Verdugo Hills Hospital | Glendale | Los Angeles | 92 | 245 | 38.0% |
| Victor Valley Community Hospital | Victorville | San Bernardino | 91 | 293 | 31.4% |
| Washington Hospital Healthcare System | Fremont | Alameda | 226 | 753 | 30.1% |
| Watsonville Community Hospital | Watsonville | Santa Cruz | 107 | 328 | 32.6% |
| West Hills Hospital & Medical Center | West Hills | Los Angeles | 105 | 336 | 31.2% |
| Western Medical Center - Anaheim | Anaheim | Orange | 74 | 311 | 23.8% |
| Western Medical Center - Santa Ana | Santa Ana | Orange | 155 | 502 | 31.1% |
| White Memorial Medical Center | Los Angeles | Los Angeles | 272 | 1,101 | 24.7% |
| Whittier Hospital Medical Center | Whittier | Los Angeles | 369 | 1,173 | 31.5% |
| Woodland Healthcare | Woodland | Yolo | 36 | 203 | 17.7% |
Sources: California Hospital Assessment and Reporting Taskforce